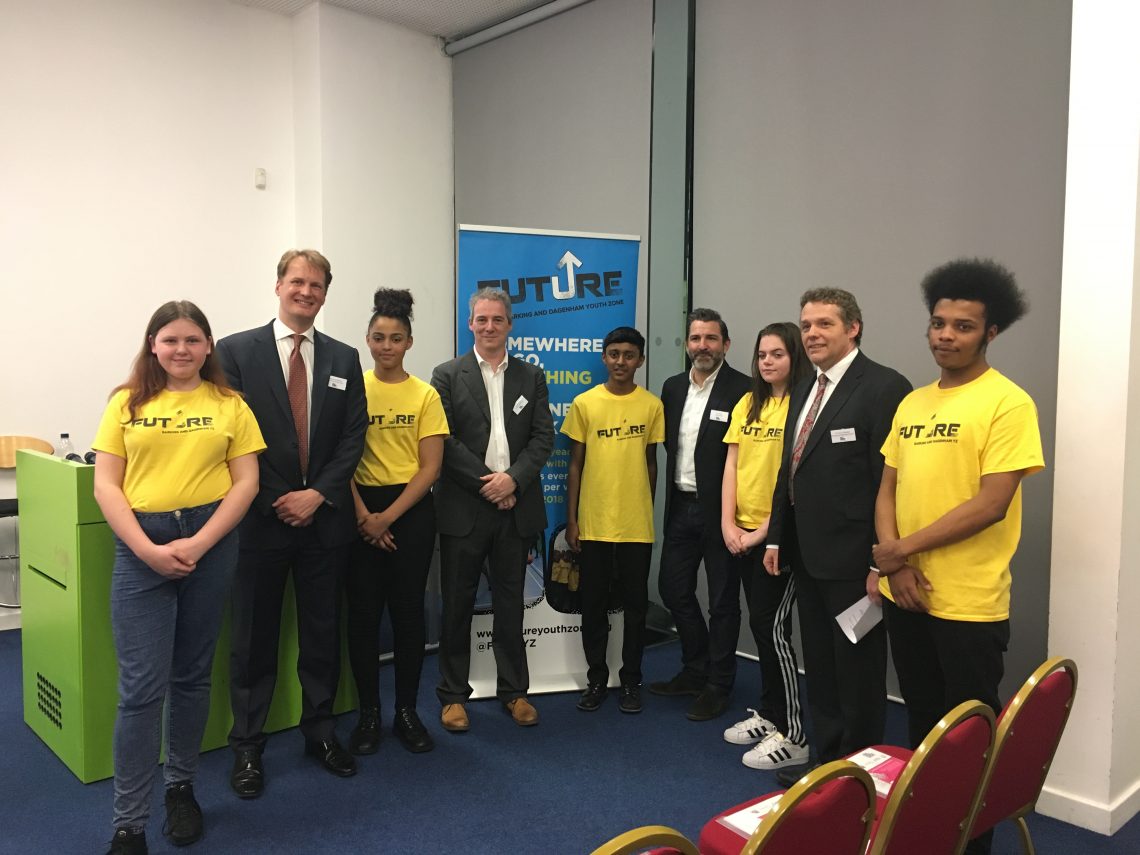 Local community groups, councillors and businesses came together to hear more about Future Youth Zone at Barking Learning Centre on Monday evening.
Youth Zone chairman Charles Mindenhall hosted a Senior Briefing event, which saw panellists including Barking and Dagenham Council Leader Cllr Darren Rodwell, OnSide Youth Zones Project Director Dr Mark Ward and Steve Blyth from Engage Works, one of Future's first Founder Patrons, speak about their involvement.
Guests were updated on the project following the submission of a planning application last month. Artist's impressions of the building, which will be located on Parsloes Park when it opens in Autumn 2018, were also on display.
Members of the Barking and Dagenham Young People's Development Group explained their vital role and work they've been doing, including branding and promotion.
Cllr Rodwell spoke passionately about the Council's support of the project, which will see the local authority contribute £3million towards the overall capital costs as well as the land where the Youth Zone will be built. Mr Blyth, founder and CEO of Engage Works, told the audience how a trip to Wigan Youth Zone inspired him to enrol his company as Founder Patrons, which will see them contribute to the £1million per year revenue costs.
Youth Zone chair Charles Mindenhall said: "It is vitally important that local community organisations are kept updated with our progress and that they fully understand what a Youth Zone is and what it will bring to the young people of Barking and Dagenham. It was great to see so many new and familiar faces attend the event and we very much look forward to working with them all during these exciting developments."
Barking and Dagenham Council Leader, Cllr Darren Rodwell. said: "The briefing was a welcome opportunity to report on the progress with the development and to share with partners, councillors and other community groups the wonderful investment in our young people this will be. This is an outstanding partnership between our young people, the council, private sector and the community."
Steve Blyth, Group CEO & Founder of Engage Works said: "As Founder Patron of Future Youth Zone, it's fantastic to have a shared vision with the council and OnSide to provide not only a facility, but also a legacy for the young people of East London and Barking & Dagenham to be proud of. Our contribution to the revenue costs is only part of our relationship, we'll also be providing advisory, workshops and introductions into the digital workplace for many of the young people involved."