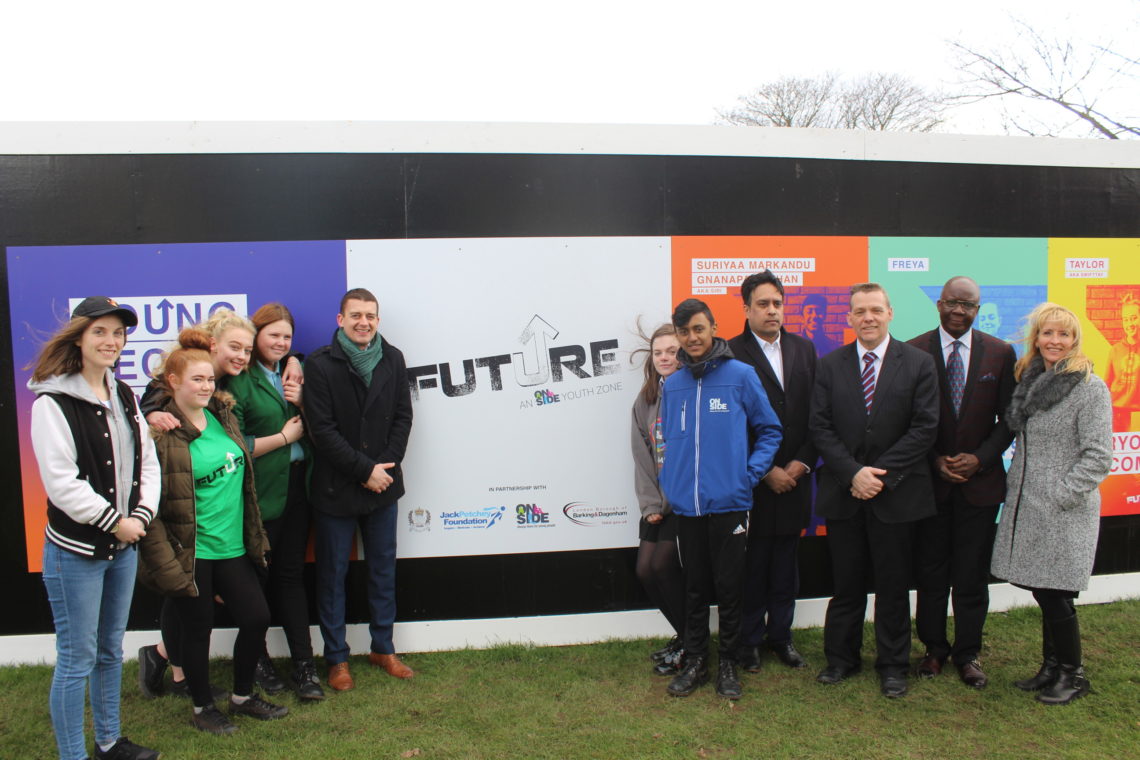 Barking and Dagenham youngsters have unveiled their vision for the OnSide Future Youth Zone with specially-designed hoardings at the centre's Parsloes Park site.
It has only been two months since the spade went into the ground at a special ground-breaking celebration to officially start work on the £6.5million centre and a steel frame will soon be erected to help move the development onto the next phase.
Youngsters have come together over the last two-years to help form the Youth Zone's Development Group and have worked on designs with London-based design agency Zak to display three key messages around the building site.
'Pride in Barking and Dagenham' gives a real identity to the borough and portrays what the youngsters feel about living in the local area.
The Youth Zone's branding of 'Future' demonstrates where young people can make change for the future and how it best represents the youth zone.
The final messaging surrounds details of the activities that will take place when the centre officially opens in 2019 and these will all be reflected in hoardings around the site.
Barking and Dagenham Youth Zone, which was named 'Future' after a borough-wide vote led by the Development Group, is being developed by the national charity OnSide, in partnership with Barking and Dagenham Council, the Queen's Trust and the Jack Petchey Foundation who have together contributed towards the £6.5million construction costs.
The Youth Zone will boast a wide array of world-class facilities and activities from sports in the four-court sports hall, martial arts room and 3G kick pitch; to art, drama, music, cooking and enterprise and employability opportunities.
Joanna Davies Co-Founder and Chief Executive of ZAK said: "We are incredibly proud to be working with OnSide, as an agency that connects U30s with brands, it is vitally important for us to be giving back to youth-based charities. We love what they do in inspiring future talent, and we hope we have gone some way in inspiring their members too."
Gavin Evans, Future Youth Zone Chief Executive, said: "These boards look absolutely fantastic and I want to extend a huge thank-you to Zak Agency on behalf of everyone involved with Barking and Dagenham Youth Zone and the young people."
Councillor Darren Rodwell, Leader of Barking and Dagenham Council, said: "This once again shows the incredible talent that we have in the borough and this has been a long time coming for our young people. 

It has only been two months since we put the spade into the ground, but we can already see the huge progress that has been made. 

The Youth Zone is going to transform a number of youngsters lives and will make such a big difference in the local area."