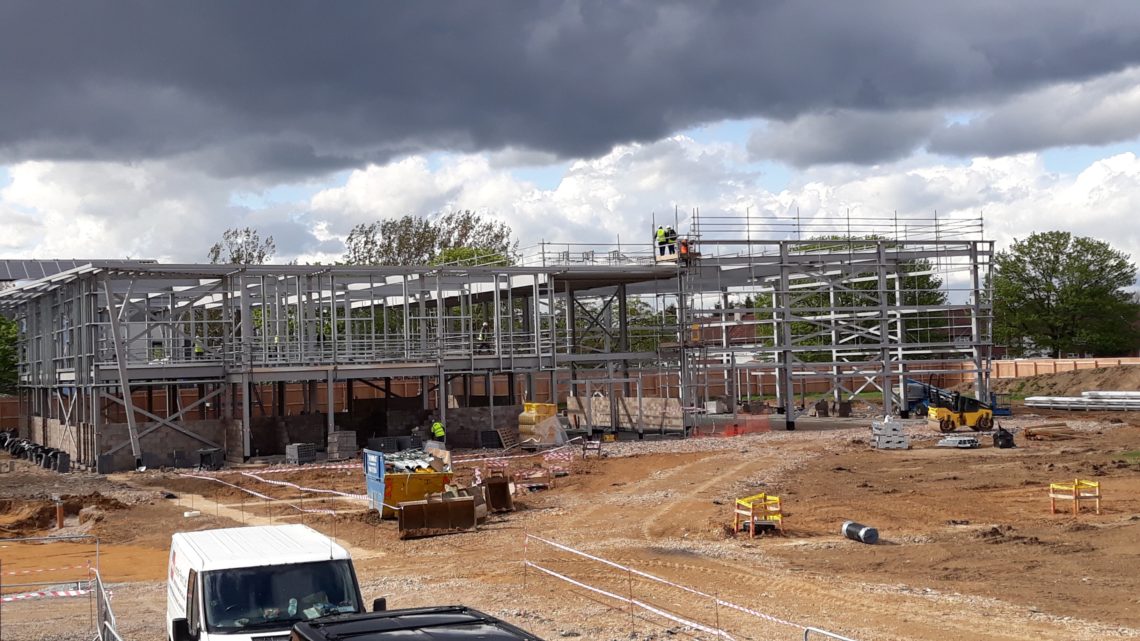 Construction on Barking and Dagenham's OnSide Youth Zone moved a giant step forward with the completion of the building's steel frame this week.
Work began on the facility, named Future by local young people, in January this year and despite wintery conditions carrying on through Spring, the building is developing at a rapid pace with the steel structure now complete.
The development will continue with the floors, staircases and roofing being fitted over the next few weeks.
It means Barking and Dagenham's young people are another step closer to stepping inside this exciting development, which will provide 20 different activities every night from sports in the four-court sports hall, gym, martial arts room and on the 3G kick pitch as well as arts, music, dance, cookery, enterprise and employability opportunities and much more.
Recruitment for the Youth Zone's senior management team will also begin soon with positions for Youth Work Manager, Development Manager, Operations and Business Manager and Volunteer, Recruitment and Training Manager soon to be advertised.
Youth Zone Chief Executive Gavin Evans said: "Completion of the steel frame is a significant milestone in the build programme and it is great to see construction taking shape so quickly.

"We are now pushing ahead with recruitment plans for our senior roles within Future's team and adverts will be on our website and in the local press in the next two weeks.

"We are also looking forward to increasing our engagement with community partners and young people over the next few months to develop our offer and ensure it is exciting, current and inspiring for our members."

Paul Hogan, Commissioning Director for Culture and Recreation at Barking and Dagenham Council, said: "We are thrilled to see the development coming along so quickly and this is another big milestone as we count down until the official opening in Spring 2019.

"For our youngsters in the borough the OnSide Youth Zone will be one of the best facilities for them to us in the borough and they will have the opportunity to showcase their talents at a number of different activities. This will make such a difference in the local area."
Future Youth Zone is being developed by the charity OnSide, with the building's £6.5million capital funding being supplied by Barking and Dagenham Council, the Queen's Trust and the Jack Petchey Foundation.
It will also be London's first Youth Zone when it opens its doors next year, with young people aged 8-19 (and up to 25 with additional needs) paying £5 annual membership and then just 50p per visit.