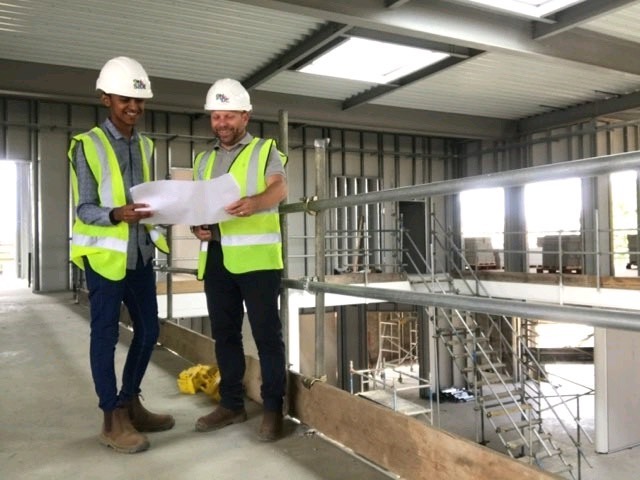 Suriyaa Gnanapandithan, a member of OnSide's Barking and Dagenham Young People's Development Group, enjoyed an exciting of week work experience with Future Youth Zone's CEO Gavin Evans.
During his placement, he got the chance of having a 'VIP' tour of the Youth Zone site in Parsloes Park working alongside Adam Poyner, OnSide's Senior Development Surveyor. The experience entailed a day looking at the plans and then going into the building site.
Suriyaa said: "It is such a privilege to have been allowed into the Youth Zone during construction. The builders were nice to have allowed us to come during the busy periods. The Youth Zone has progressed so much that in the last few months since the hoardings reveal it has already got a roof and that the main structure is there. This time next year there will be thousands of young people across the borough using these facility."
After the site visit Suriyaa took the chance to grill Adam about the construction.
Tell me about the progress of the site operations…
We started on site on January 2018 and progress has been very good and generally in line with the construction programme. We are pleased with the way our contractor, Piperhill Construction Ltd, has been conducting works on site.  So far, they have completed the below ground drainage and foundation solutions, erected the steel frame and are now making the building watertight with the completion of the roof and rain screen cladding to the elevations. Internally, the floors have been installed and walls and partitions are being erected. The mechanical and electrical works have also commenced too.
What are the next steps?
In the coming weeks the aluminium windows and the timber cladding to the elevations will start to be installed.  Mechanical and electrical works will progress and internal walls completed. The building would be close to being substantially watertight in the next four to six weeks or so.  Internal staircases will be fitted and floor screeds laid in preparation for floor finishes.
Are we still on programme?
Yes! The contractors are reporting that they are still on target to complete the building in early 2019 in accordance with the original programme.