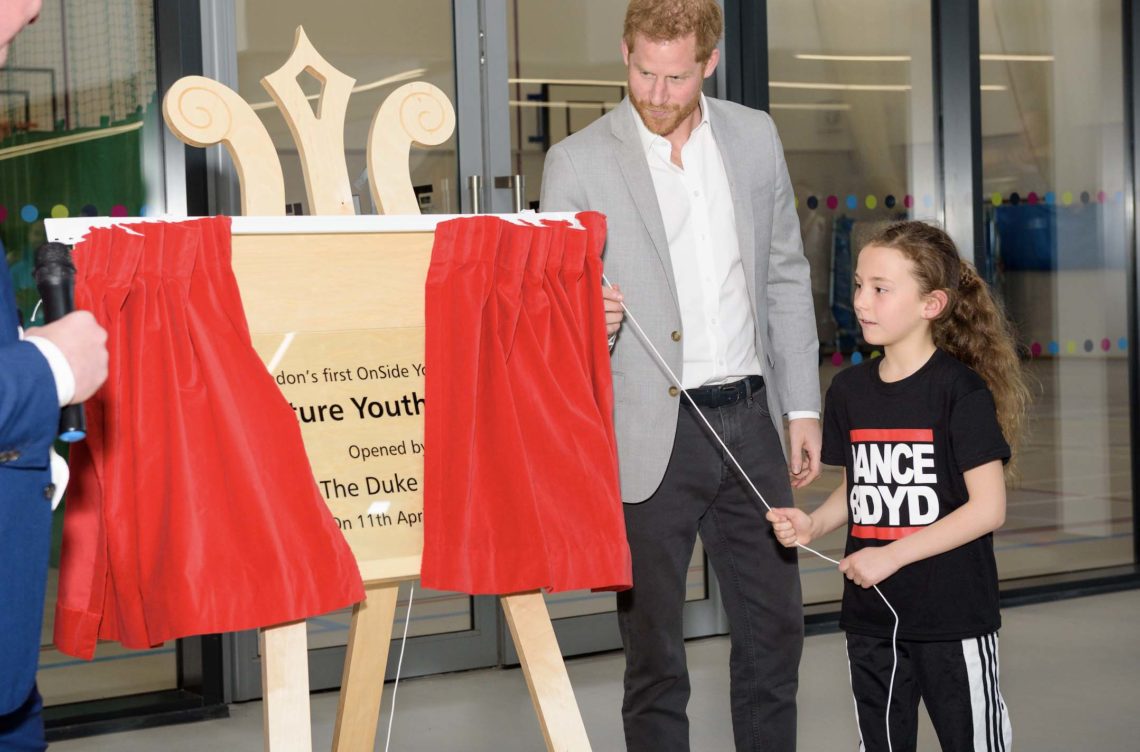 Today (11th April) HRH The Duke of Sussex officially opened London's first Youth Zone in Barking and Dagenham, a state-of-the-art facility developed by national charity for young people OnSide Youth Zones.
Future is the first of three brand new Youth Zones set to open in London this year with OnSide Youth Zones investing an initial £20million in Barking and Dagenham, Barnet and Croydon with a further combined £4 million per year earmarked for operating costs.
During the visit to Future Youth Zone the Duke of Sussex met with young people from across Barking and Dagenham who have been involved in its development and took part in a number of activities including tag rugby alongside Sir Clive Woodward.
HRH Duke of Sussex was also joined by members of Barking and Dagenham (BAD) Youth Forum, BoxUpCrime and Youth Zone attendees as they shared their perspectives and experiences of knife crime.
The Duke of Sussex also watched performances by several young people and met young people from the OnSide London development group that have helped to develop all aspects of the London Youth Zones.
Bola Busari said: "It was amazing meeting Prince Harry, he is very down to earth and was very easy to talk to.

"He was asking me about me and my brother and how we can come to the Youth Zone together as well as everything I've done with the Youth Zone. Future is an amazing place and I'm so proud to be here."
The Duke finished his visit by meeting Leader of Barking and Dagenham Council, Cllr Darren Rodwell and key OnSide funders including Christopher Coombe of The Queen's Trust, Sir Jack Petchey of the Jack Petchey Foundation, Simon Morgan of Vistra representing The Seroussi Foundation and Rt Hon The Lord Mayor and Lady Mayoress of the City of London, Peter and Lindy Estlin, before unveiling a plaque which he invited nine year old Araberesha Deda to help him with.
HRH The Duke of Sussex has previously visited several OnSide Youth Zone centres including those in Wigan and most recently in Birkenhead in January this year with The Duchess. He also hosted a reception for the charity at Kensington Palace alongside David Walliams.
Each Youth Zone houses an indoor climbing wall, 3G kick pitch, dance and drama studio, music room with recording studio, fully equipped gym, arts and crafts room, enterprise and employability suite, martial arts studio, training kitchen and much more.
OnSide Youth Zones' innovative multi-sector funding model combines funding from local authorities, philanthropists, businesses, charitable grants and revenues generated by the Youth Zones themselves.
John Roberts, Chairman of the Executive Board of OnSide Youth Zones said: "It was a pleasure to welcome HRH Duke of Sussex to Future Youth Zone to see the fantastic facility that's been created.

"We provide state-of-the-art spaces for young people to spend their leisure time which give them somewhere safe and inspiring to make friends and engage with excellent role models.

"We are extremely grateful for the support we've received from local councils, businesses, philanthropists and key members of local communities without which none of this would be possible and we look forward to developing the network across the country."

Barking and Dagenham Council Leader, Cllr Darren Rodwell, said: "I am delighted that Prince Harry found time to come to Barking & Dagenham and open London's first ever Youth Zone. It was a very special moment for our community.

"The Youth Zone is a reflection of the huge aspiration we have in the borough. It was an amazing experience for our proud young people to meet the Duke and talk to him about how much they value having a fun space to go to outside of school, where they can make new friends and where help and advice is on hand.

"The Future Youth Zone will provide a safe place and activities for up to 1,500 young people every week and will give them access to fantastic activities including sports, dance, IT and even rock climbing. It will be the best facility for young people in London and sends a clear message to our young people that they matter.

"I'm so proud that the Duke chose to visit us to see the work we are doing for our young people. As we all know, over the last few years knife crime has been on the up and the Council's budget has been cut in half. That's why the Youth Zone is so important. It shows just what you can achieve when local authorities work together with residents and businesses to create a lasting legacy for the community."
With a network of ten Youth Zones currently open in Bolton, Blackburn, Carlisle, Wigan, Manchester, Oldham, Warrington, Wolverhampton, Wirral and Chorley, this year will see the OnSide Youth Zone's current reach of over 40,000 young people raise to 52,000 young people by the end of the year.