Today marks one month until Barking and Dagenham's Future Youth Zone opens its doors to the borough's young people.
The staff team has been in the building for four weeks now, hosting soft openings with partner groups and local schools who have all had lots of fun trying out our amazing facilities!
We were also delighted to be joined by HRH the Duke of Sussex last week to officially open the building. The Duke was joined by 250 amazing local young people, our partner organisations and supporters, including Barking and Dagenham Council, the Queen's Trust, the Jack Petchey Foundation, the Seroussi Foundation (UBS Optimus Foundation and Vistra Jersey) and the Lord Mayor's appeal whose generous contributions have helped fund the £6.15million construction costs.
We now can't wait to open our doors full time to the young people of Barking and Dagenham, giving them world class facilities and 20 activities every evening. Membership costs just £5 a year and then 50p per visit for young people aged 8-19 and up to 25 for those with additional needs.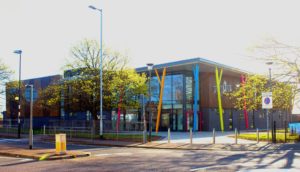 From our amazing climbing wall to our outdoor 3G pitch and skate park; our music room with recording studio to our fully-equipped gym; our dance studio to arts and crafts room and much more, Future Youth Zone is the safe and inspiring place that Barking and Dagenham's young people need and deserve.
In the meantime, we will be hosting a Family Fun Day at the Youth Zone tomorrow (19th April) between 10am and 1pm which is open to everyone in Barking and Dagenham to pop down and see the Youth Zone for the first time. Please note we are expecting to be very busy during the event so will be operating a wristband system to ensure
everybody gets chance to come in.
We will also be hoping a drop in session specifically for young people with additional needs and their families between 11am and 3pm on Sunday 5th May to find out more about our fully inclusive offer as well as our Futurebility sessions, which will be held each Sunday for those with disabilities.
CEO Gavin Evans said: "I can't believe it is just one month to go until we open our doors to Barking and Dagenham's young people. You will have seen the amazing facilities we have for young people but crucially we also have the most amazing staff team who will make Future Youth Zone a second home for them too.

"We wouldn't have got to this stage if it wasn't for the support of so many people, not least our Capital Funders and Founder Patrons whose wonderful investment in Barking and Dagenham's young people will give them somewhere to go, something to do and someone to talk to."
Future Youth Zone is also planning a number of VIP sessions for those already signed up as members. You can do this by clicking here.
Plans are also well underway for our grand opening next month and will be unveiled very soon!