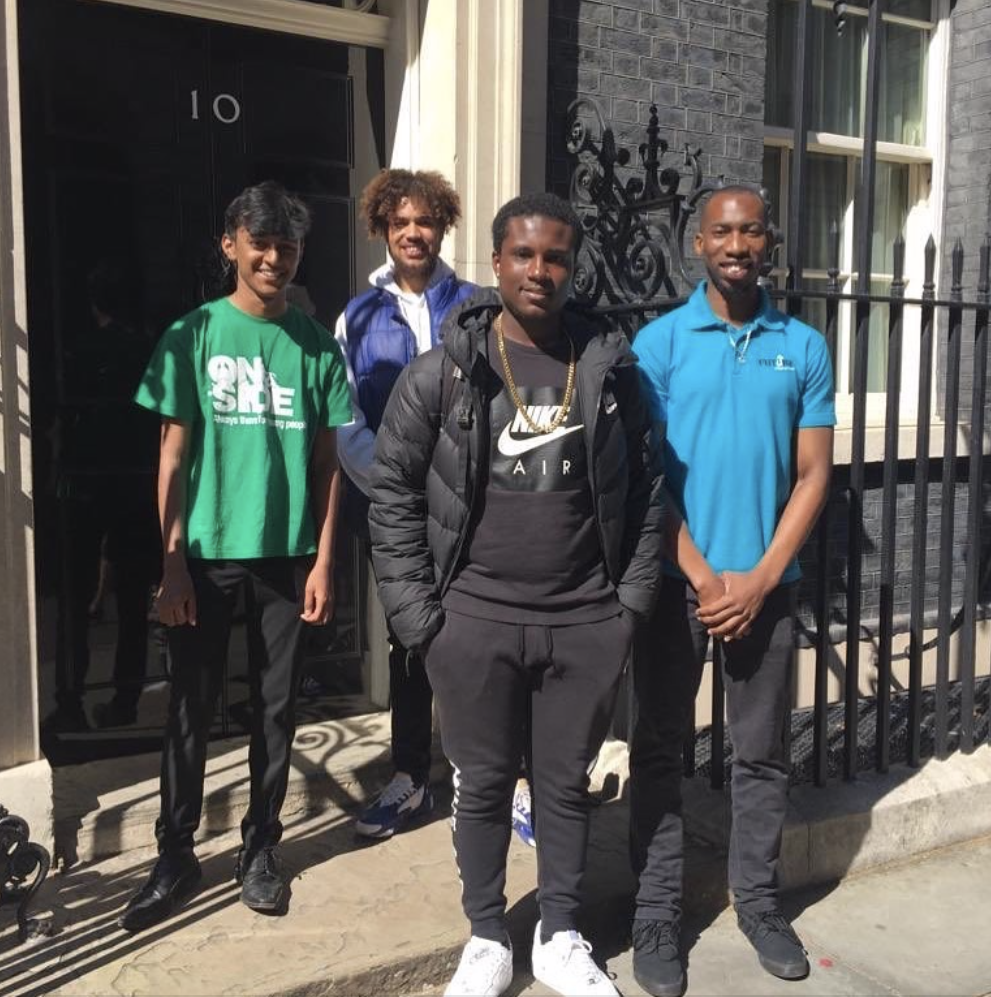 Future Youth Zone celebrated with Prime Minister Theresa May to champion youth work activities that are making a difference to the lives of young people
Future Youth Zone were invited to 10 Downing Street representing OnSide for a reception with the Prime Minister, Theresa May on Monday. To celebrate and champion the positive youth activities that have become solutions for violent youth crime. Working towards tackling serious youth violence.
"On Monday I hosted a reception to celebrate positive opportunities and showcase the work of those who help steer young people away from violent crime.

"It was a pleasure to hear first-hand about the great work being done." – Prime Minister, Theresa May
The reception praised the organisations and charities which give young people opportunities and positive spaces to develop their futures. To get them off the streets, tackle anti-social behaviour and violent youth crime through nurturing a hobby.
Many notable people were invited to the reception, people who have broken through stereotypes and bettered their futures through a skill and made a positive impact on the lives of young people. The panel included UK viral grime artist Rapman, who started his first business in his bedroom and described his self-doubt from peers in his youth to his journey becoming a signed artist with self-belief. Founder of SBTV Jamal Edwards and Hackney Wick FC founder, Robert Kasanga.
Jeidan a young person at Future Youth Zone who attended the reception is one of Future's regular senior members. Jeidan attends the Youth Zone to access our music recording studio and believes that since being a member it has bettered his prospects and gave him the platform he needed to start off his music career.
"The Youth Zone is only 50p per entry, this is the first youth zone and for it to be in my community is life changing and will open many doors for my music career as I am an aspiring musician.

"The support from Future has been unbelievable, visiting 10 Downing Street was the best experience as Future invited me to this trip and it was a big opportunity for me.

"All young people should sign up and get off the streets and just become a member as this visit to 10 Downing Street and meeting Rapman has inspired and motivated me to really believe in my music career". – Jeidan, Senior member at Future Youth Zone
The discussion placed emphasis on young people needing positive role models and influences during childhood to put them on the right path to achieving their aspirations. An importance was also placed on the power of young people having strong bonds with the local community, as teamwork activities such as football, create unity among youth through sport.
Future Youth Zone provides somewhere to go, something to do and someone to talk to. With up to 20 activities on each night, including a music room, arts and crafts, gym, sports, interactive games and a place for young people to call their own. Future Youth Zone is a new generation youth centre, with supportive youth workers providing an open, positive and uplifting space in Barking and Dagenham, where young people can grow and enhance their self-belief.