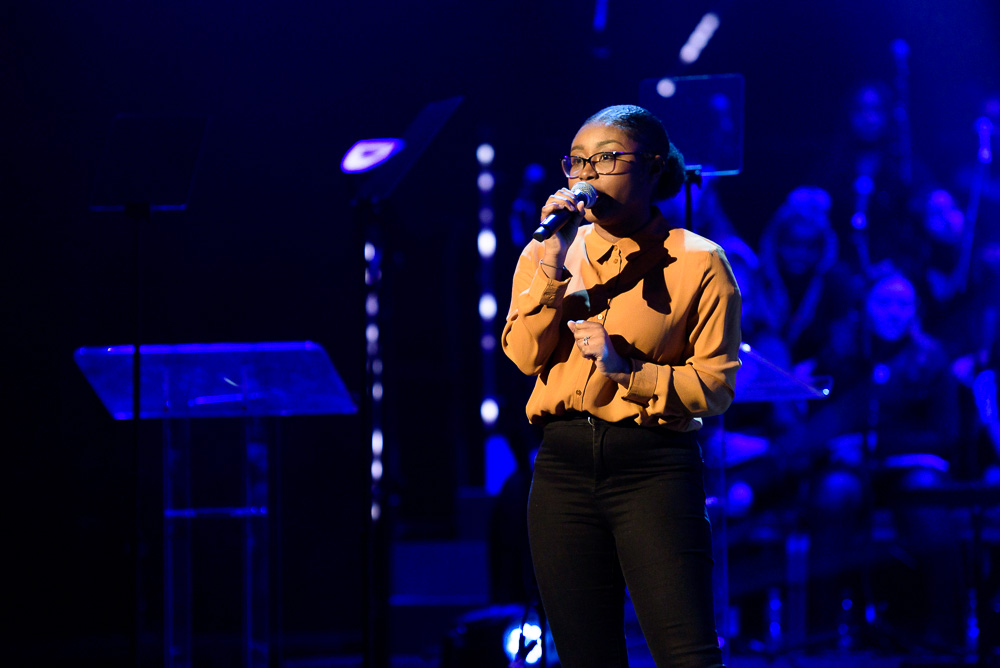 Talented young people from Barking and Dagenham took to the famous Royal Albert Hall stage and performed alongside world-renowned artists to an audience of thousands and HRH Prince Harry at the OnSide Youth Zones Awards.
More than 4,000 people attended the ceremony, which recognised young people's exceptional achievements with awards presented to those who have made a real difference in their community, have breakthrough talent, or have overcome the most challenging of circumstances.
Future Youth Zone, which opened in Parsloes Park in May this year, is part of the OnSide network of Youth Zones. Nearly 500 young people and their relatives joined thousands more from the 12 other Youth Zones across the country for an incredible evening which saw fantastic performances from The Script, with their smash-hits 'Superheroes' and 'Hall of Fame', and John Newman with 'Love Me Again'.
The stars of the show though where young people from across the OnSide network which included three from Future: 17-year-old Tommy Harper, 15-year-old Monique McKenzie and 17-year-old Duncan Mensah from Future Youth Zone.
Tommy performed a song called 'Brain Freeze' which he wrote at the Youth Zone in memory of his grandmother while Monique collaborated with young people from Barnet and Blackburn to sing a stunning rendition of 'I don't wanna be you anymore' by Billie Eilish.
Pianist Duncan, meanwhile, formed a brilliant trio with rappers from Birkenhead and Oldham.
Speaking after his performance, Tommy said: "Performing at the Royal Albert Hall was amazing. I sang a song I wrote for my nan who sadly passed away a couple of years ago when I was 14. I sang before that and I started with spoken word and then moved onto singing. OnSide is about working as a team, supporting each other through anything."

Duncan added: "All I wanted to do was come and smash it. Hearing how the crowd reacted, the atmosphere was crazy so I think we smashed it and accomplished what we came to do. OnSide Youth Zones put young people first, they took us on and let us perform – if it wasn't for them we would never have had this great opportunity. They give children the opportunity to express themselves and the talents they've been given and to ultimately have fun and enjoy what they do."
Member Fiona Eagleson was nominated for a Health & Wellbeing award and Arts award while Arts Coordinator Amber Reed was nominated for the OnSide Individual award. The Youth Zone's two football teams – Future A & Future B – were also nominated for the Sports award.
The nominees were also invited to a meet and greet with HRH The Duke of Sussex.
Fiona told the Duke: "(Future) has made such a huge impact. Every day at school everyone is talking about Future, it's just such a nice place to go. There are so many opportunities, like this opportunity – I would never come to the Royal Albert Hall, it's huge – I'm meeting you!"

The Duke replied: "I'm meeting you guys! You guys are the future of this whole country."
The Duke then addressed the full Royal Albert Hall, saying:  "Whether you are an OnSide member, or have helped make OnSide possible, you're helping pave the way for someone else. And this is a chance to celebrate that. A chance for you to see what you have achieved together, the difference you are making, and the role models you have become

"This moment, when your friends at OnSide have your back, when they are lifting you up, and reminding you that anything is possible, and that you have what it takes to be a game changer.

"Every time I meet someone from OnSide I meet someone who is ambitious for themselves but also for their entire generation, hopeful for the future of our planet, and committed to supporting others. You have an amazing fire burning inside of you – full of potential, creativity, compassion, and authenticity."
Young people shortlisted for the awards were nominated and voted for by Youth Zone members from the OnSide network, and their stories were told throughout the evening.
Dagenham's Jesy Nelson, of Little Mix, received the Gold Award, which recognises someone from the wider OnSide community who has made a significant and lasting difference to the lives of young people.  Jesy was chosen through her breakthrough documentary, 'Odd One Out', highlighting the abuse she received at the hands of cyberbullies and its effects on her mental health.
Jesy said: "This is amazing, I can't believe I'm the first winner of the very first OnSide Gold Award, its absolutely incredible.  Thank you so much to everyone."
The star-studded evening saw awards presented by comedian Mo Gilligan, EastEnders actor Zack Morris, British artist Stuart Semple, Chief Executive of the Stephen Lawrence Charitable TrustStuart Lawrence, and Matt Rantell from the Jack Petchey Foundation.
The ceremony included performances from Ms Banks, up-and-coming artist Yizzy, the 25-piece Chineke Orchestra and was hosted by BBC Radio 1 presenter Dev Griffin and Capital Breakfast Show host, Vick Hope.
Kathryn Morley, Chief Executive at OnSide Youth Zones, said: "I am delighted that our first annual OnSide Awards ceremony was a huge success.  All of the acts were incredible.  It was wonderful to shine a light on Youth Zones which have such a transformational effect on the lives of young people."
The event was made possible thanks to a generous donor who is passionate about supporting young people and OnSide Youth Zones, a national charity for young people which has 13 state-of-the-art centres across the country.