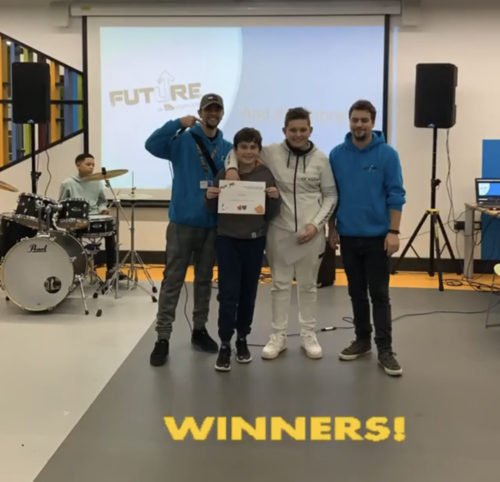 Our talented Junior members took to the stage to show off their wonderful talents in front of a very loud and proud audience.
We had a range of performers, from dancers, to rappers and even a fantastic drummer.
Lois kicked off the show dancing to the Ed Sheeran's' (feat. Stormzy) "Take Me Back to London". She wowed the crowd with backflips and cartwheels, all while her friends cheered her on to the very end.
Next up we had Morgan on the drums accompanied by our very own Jack from URProduction who played a rendition of Eye of the Tiger. Morgan bashed the drums, with the whole Youth Zone clapping along to the well-known rhythm.
Renis and Alex then took to the stage sing 'Life is Great', a rap they had produced themselves. They spoke about how great life is and that no matter what, positivity should be the number one thing on your list.
"Future Youth Zone will change your life, give you all the opportunities that you might like," sang Renis.
Lastly Derryn graced the stage with Michael Jackson's 'Bad' and of course some moon walking. He sang his heart out and had the dance moves to match. By the end he had everyone getting involved and singing along.
This brought our Junior Talent Show to an end, but now was judging time! In awe of what they'd just seen, the audience took their voting slips and had the hard task of deciding who they thought should be crowned the winners.
After much deliberation our young people cast their votes and the votes were counted up. The winner was announced… Renis and Alex, who had performed their very own song 'Life is Great'.
Junior and Holiday club manager Chris said:
"Thank you to the wonderful crowd that come down to Future to support their friends and enjoy a Sunday afternoon of talent. A huge congratulations to our young people who performed, we are very proud of the talent and enthusiasm you bring into our Youth Zone."