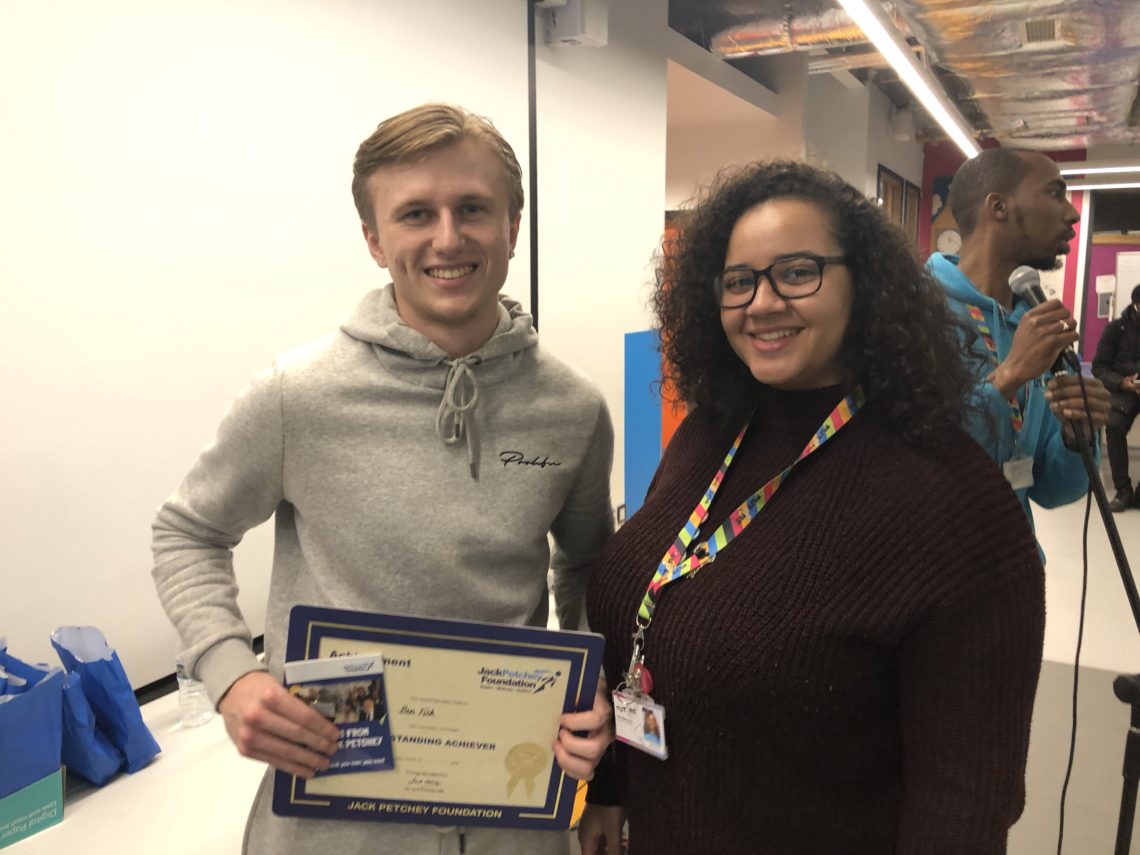 Young people from Future Youth Zone are part of the Jack Petchey Achievement Awards. This award is for young people who have gone above and beyond to achieve – perhaps when others thought they might fail.
They may be used to recognise determination and for someone who has faced a challenge, a young person who has pushed themselves outside of their comfort zone.
The team at Future handed out 5 awards last month. These went to:
Owen: captained and lead the boys football team to. a win at the 'unity against knife' football tournament. He bring a positive light to himself and others.
Monique: she has shown commitment and dedication and is always engaged in our arts offer. She continues to show the way for her friends at Future.
Tanisha: She has really grown and has been a support to our arts offer through ensuring new members that engage in the art room feel welcomed and relaxed.
Santiago: He has shown great courage by separating himself from his former environment, has chosen differently for his future and everyday he comes into future with the enthusiasm, drive and engages positively in all activities.
Bruna: She tries to go outside her comfort zone and try new things and within time she has ventured out and attends art regularly. She only moved to the UK 4 months ago and has come leaps and bounds since then.
Solomon: He started at Future as an overweight young man weighing, he was dealing with low self-confidence as a result, however, he persisted in the boxing gym and the fitness suite has enabled him to feel more comfortable in himself and encourage others. He has lost a considerable amount of weight.
Sophie: When she first became a member she couldn't look us in the eye, and felt very shy, but now she loves a good chat! It has been amazing to watch her go from strength to strength. She is a kind, funny and an inspiring individual to the staff and members of Future.
Zuriel: He has expanded his time here by getting involved in various other activities such as Gym, Cooking and Music. He has created a new set of friends and this has developed his confidence socially amongst other peers at the Youth zone. He jumps at the chance t play basketball and encourages others to as well.
Ben: Everybody talks highly of Ben, he is polite, engaging and creates a friendly atmosphere around the youth zone especially in our sports hall playing basketball. Ben has introduced other new members to the youth zone through his love for basketball as well as a safe space to have somewhere to go, something to do and someone to talk to.
We at Future continue to be blown away by the achievements of our young people!
The Jack Petchey Foundation is a Capital Funder of Future Youth Zone, contributing £1.5million to our £6.15million construction costs.