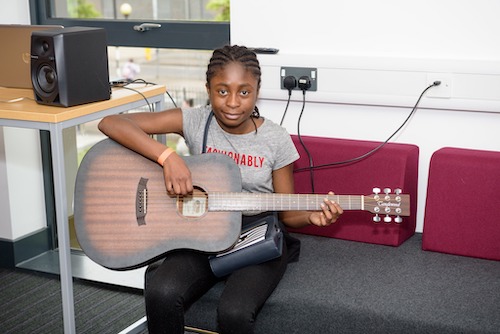 Young people and their parents and carers have increasing concerns about their safety in the community, we talk to our Head of Youth Work Zak about how Future is giving young people a safe and inspiring place to go.  
"Future works on the foundations of youth work – build relationships with young people and you'll help them on their journey." says Zak 
Every evening young people can do over 20 activities here at Future. This could be picking up a guitar for the first time, learning flips on the trampoline or joining our football team.  
But throughout these activities the most important thing is that our team give young people someone to talk to. They will inspire them, pushing them to reach their potential, and support them – any issues they have at school or home they know we're here for them.  
We know some young people are worried about crime and safety within their community, so we're really lucky to be able to partner with brilliant organisations like Safer London and the Red Cross. Safer London run workshops giving young people the confidence, resilience and knowledge of how to keep safe. Because we can host them here, young people can still enjoy their favourite sport or activity afterwards. The Red Cross have delivered first aid training here, equipping those with the skills to help in emergency situations they might find themselves in.  
Young people asked us to ensure that every senior member who visits the Youth Zone is met by a Youth Worker in reception who can give them a warm welcome but who also searches every visitor using a 'wand'.  This check is just the first part of a great welcome the young people get when they visit and gives us an opportunity to speak to them about their day and let them know what's going on that evening. This also ensures they know that when they're in the Youth Zone they are safe and that all young people are treated equally. 
Through talking to young people, we find out what challenges they are facing outside. At times a youth worker will be the only consistent adult a young person's life. We have a range of staff including coaches, musicians, dancers and as youth workers we recognise that young people need a variety of role models in their lives. 
We have a good relationship with the police and do a lot of work around helping young people see beyond the uniform and the how they help make the community safer place. It is important that young people see how we work in partnership to support and help them pursue their dreams. 
At the end of the day everyone wants a community to belong to and a purpose and we at Future are able to give young people that.