On Friday 11th December 2020, eight young people from Future Youth Zone had the opportunity to take part in a Football Competition hosted by Joe and Carly Cole's 11 Foundation. The competition brought together teams from businesses and other organisations from across London in support of Future Youth Zone and the wider OnSide Network.
The competition took place in Shoreditch, East London and all the teams who entered got to play against an England veterans team which included Joe Cole, Peter Crouch, David James and Joleon Lescott, Wayne Bridge, Carlton Cole, Paul Konchesky and Steve Sidwell. The Future Youth Zone team were eventually knocked out of the competition on penalties in the quarter finals but gave a great account of themselves against high profile and talented opposition.
The Future Youth Zone team was kindly sponsored by West and Coe Funeral Directors. This kind sponsorship not only ensured the young people involved had a once in a lifetime experience to play against ex professional footballers but the sponsorship will now go on to benefit young people who attend Future Youth Zone.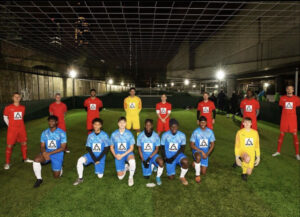 Future FC with the 'England Vets'
Jeremy West (pictured above), Chairman and Managing Director of West and Coe Funeral Directors said:
"I was delighted to sponsor the Future Youth Zone team to take part in the 11 Foundation football competition and I hope they really enjoyed the experience of playing against and meeting ex professional footballers. I'm also really pleased that West and Coe's sponsorship will now be utilised by the Youth Zone for the benefit of young people in the borough. It's great that our support will continue to ensure that young people from Barking and Dagenham have somewhere to go, something to do and someone to talk to."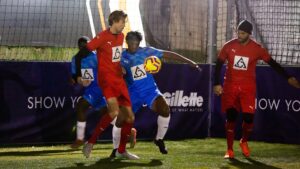 Future FC vs. England Vets 
Gavin Evans, CEO of Future Youth Zone in Barking and Dagenham said:
"I would like to say thank you to Jeremy West and the team from West and Coe, for their support for young people to take part in the 11 Foundation Football Competition. West and Coe is Dagenham's oldest business and we are pleased that their support will now have a direct impact on the borough's next generation.

I'd also like to say thank you to the 11 Foundation and Joe and Carly Cole for their support and amazing opportunity that they have provided young people from Barking and Dagenham. We are looking forward to working with the 11 Foundation over the coming years to ensure more young people can benefit from positive opportunities."