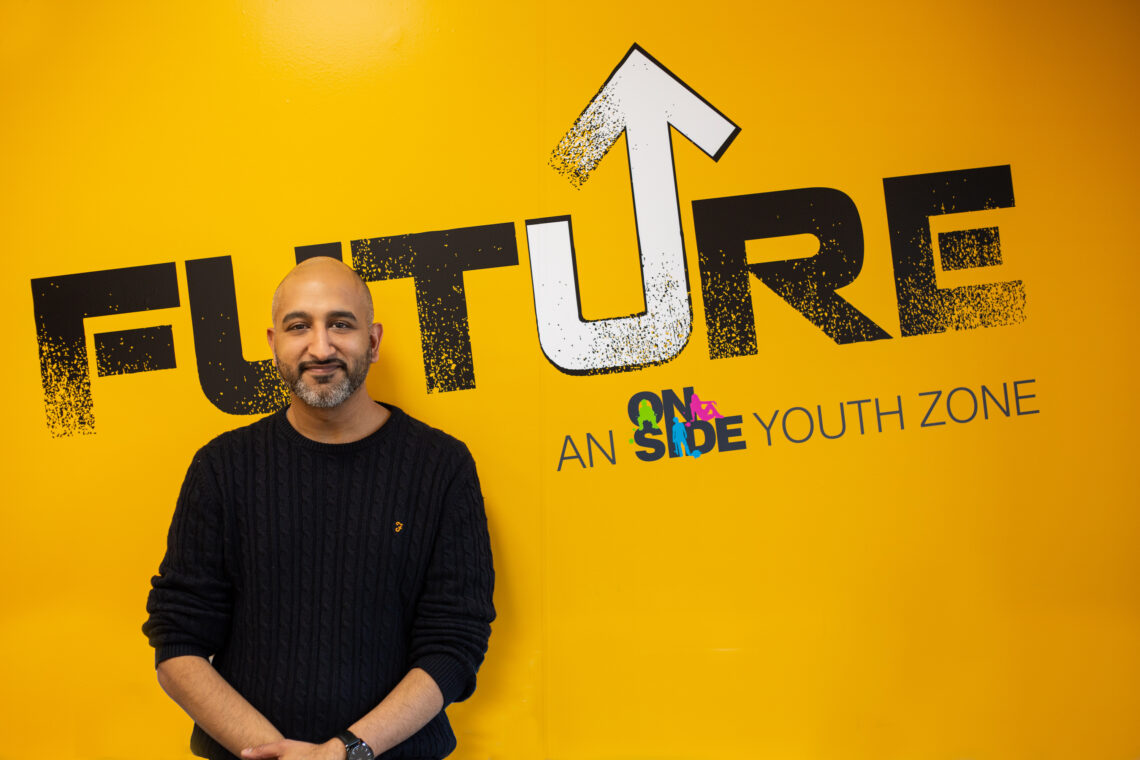 Hello Future Youth Zone and OnSide team, young people, supporters and partners!
My name is Neel Parti and I am the new Head of Education at Future Youth Zone – I'm very excited to be here and really looking forward to meeting and getting to know you all! I am absolutely blown away by the space, it's so energising, and I can't wait to experience it filled with young people. I've also been working from home for the past year, so it's really nice to be around people again and everyone I've met so far have been incredibly kind and welcoming. My wife is also probably relieved that she doesn't have to see me for every waking minute of every day, as she's been working from home for the past year too!
So, a little bit about me. I was born in Barking, grew up in Redbridge and have spent a significant proportion of my career working in Havering, so have a close connection to the local area. I am a children and families social worker by background with six-years of local authority children's services experience and five-years of strategic and programme management experience at the NSPCC. I have dedicated my career to serving the most vulnerable children and families in our society – it is what makes me come alive and is what gets me out of bed in the morning. Working on the "frontline", I've seen, first-hand, the impact of early life adversity and trauma, discrimination and inequality, and the vulnerability these experiences can create for children and young people. I therefore have a deep appreciation of the need for the space, programmes, care and support provided by Future Youth Zone, and feel a real connection with the organisation's values, vision and mission. At the NSPCC, a core part of my role was developing and leading a national programme called Sharing the Brain Story – designed to share the science of child brain development and the impact of early adversity and trauma, across society, across the UK. Using six evidence-based metaphors, which translate complex scientific concepts related to trauma and brain development, it aims to create a shared understanding – and practical application – of this knowledge. The vision is to promote healthy development and positive wellbeing and mental health, by creating nurturing, 'trauma-informed" environments. Excitingly, we'll be bringing the programme/training into Future – so watch this space! I've also had lots of other experience, which I won't list here but if you're interested, you can have a look at my LinkedIn profile.
In terms of my role here at Future, I'll be responsible for leading the development of the daytime offer, which includes two innovative, flagship projects – Baby Zone and the Complementary Education project. Baby Zone is an exciting new approach to delivering high quality, impactful early years provision. Families who attend will have the opportunity to engage in a range of fun, engaging, evidence-based activities every week which support parent and baby bonding, brain development and learning. The Complementary Education project will aim to support young people (11-14 initially) with emerging needs, who are potentially at risk of exclusion to develop key skills including leadership, decision-making, awareness and confidence – skills that will allow them to manage the demands of mainstream education and more than that, thrive. For me, one of the key ingredients that will make these projects a success is collaboration, whether that's collaborating with young people, parents/carers, partners, universities or the staff here at Future. Your experience, knowledge and expertise will be invaluable, so I'll be reaching out to many different people and if you're interested in either project or have any ideas, please feel free to get in touch with me directly (neel.parti@futureyouthzone.org).
Even if it's for an informal chat over coffee, my (currently virtual) door is always open!