Footsteps for Future
---
Footsteps for Future begins on the 1st of October, challenging you to hit 10,000 steps a day until the 31st of October – that's 310,000 steps in total!!
Taking part in Footsteps for Future will help raise vital funds so Future Youth Zone can be here for more young people across East London. Your 10,000 steps a day ensure that Future can continue to give young people somewhere to go, something to do, and someone to talk to.
If walking isn't your thing, why not try running 31k throughout the whole of October, cycling 10k a day, or challenge yourself to swim 10 lengths of a pool a day!
However you get your feet moving, you'll be supporting young people at Future Youth Zone.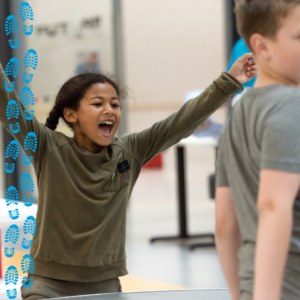 Registration
---
Register your details here and we can send you a digital fundraising pack, #FutureHero t-shirt with all you will need to get you started on hitting your step target and setting up your fundraising page.
By registering, your challenge and fundraising will help more people like Solomon.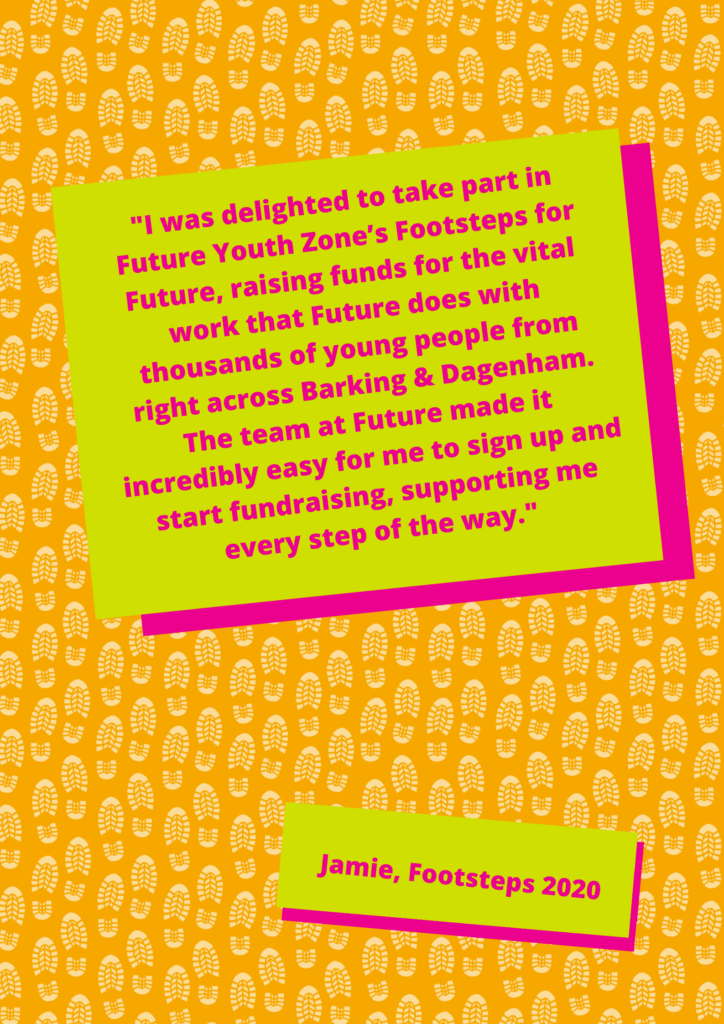 Phoebe's Story
I joined Future because my sister told me about it. She's a young leader, and she said it would be somewhere fun to go. I've always been into a lot of things, and Future was just a place where I could actually do all of them and try some new stuff. 
I did the Irish dancing and that was really good. I do other types of dance outside of Future, so it was good to learn a new style that I don't do already.
I like coming to Future because it's a good escape, and I can give my mum and dad some quiet while I'm away. The staff are easy to talk to and I feel like I can connect with them. Everyone is really nice.
Coming to Future means that I always have somewhere to go, and when I'm a senior I'll be able to come all the time. And doing the karaoke has helped me to improve my singing and feel more confident to sing in front of people. 
When you come here, you can do fun things. If you have any worries, there's always someone to talk to.
How to hit your steps
---
Walk a dog, or offer to walk a neighbours
walking part of your journey to work
leaving the car behind for short journeys
walking the kids to school
doing a regular walk with a friend
Listen to your favourite podcast or albums whilst you walk
Start a competition with friends or family – who can hit their steps target first each day?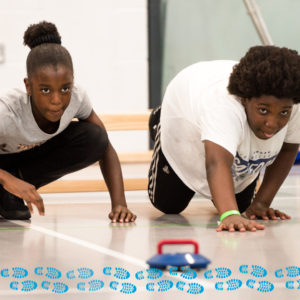 Fundraising Materials
---
You can join our Virgin Money Giving Event Page where you can set up fundraising pages as individuals or as a team. 
You can find all the support you need in our fundraising pack, as well as by joining our Strave Team, where you can track your walks against other #FutureHeroes and find even more support from the fundraising team. We've also got some great social media pictures you can use to share your challenge with friends and family.
Download Images for Your Social Media
Download Your Team Leaderboard Sheet
You can also pay in money from your awesome fundraising efforts online by clickingPay