Fundraise for Future Youth Zone
---
Fundraising for the Future Youth Zone is a great way to have fun and raise vital funds to support young people in the town.
From charity bike rides to 'Ice Bucket Challenges' – everyone can fundraise! Your funds are vital in the work Future Youth Zone will do with young people. From £1 to £1000, everything helps young people reach their full potential.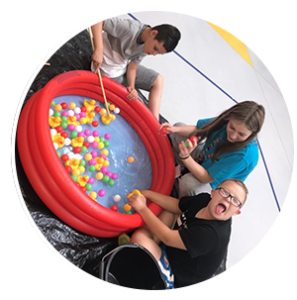 Fundraising at home
---
From selling your unwanted items on eBay for charity, shopping via Amazon Smile or searching using Easy Fundraising, you can raise money to support Future without leaving your house!
---
With the potential to change hundreds of young people's lives, plus volunteering opportunities and a large flexible space for team building days, could future be your company's next charity partner. Find out more or contact emma.sorrell@futureyouthzone.org
Fundraising at school
---
If you work in a school or are part of a PTA we would love for you to choose Future as your next chosen charity for a dress down day or fundraiser.
---
Take on a challenge
From running a marathon to a sponsored silence, we love hearing about the amazing things supporters like you do for the young people at Future.
We can provide you with a number of helpful bits and bats to support your fundraising efforts including:
An official fundraising approval letter
Sponsorship forms
Posters
Promotion via social media, our website and help with contacting the local media.
Keeping it safe and legal
Please do not collect money on the street or via door to door collections.
If you are selling items, please pay in all the money from the sale.
Please do not use Future logo without contacting us first.
Thank you for fundraising for Future and helping to make a lasting difference and inspire 1000's of young people. We need to know a little bit more about what you have planned and are here to help you every step of the way.
Looking for inspiration? We also have a calendar of events you can take part in here
Contact: anna.skipworth@futureyouthzone.org or call 020 3941 6722 for more information